--- ---
Vi er en forening med formålet at fremme kendskabet og brugen af mycelium som bæredygtigt materiale gennem udveksling af viden, praktiske færdigheder og deling af ressourcer.
Hypha Co-Lab - 2023
Charlotte Sabouret, Laura Penman, Lasse Sylvest Lilleør, Søren Overgaard
Atelier 30 - FABRIKKEN for Kunst og Design - Sundholmsvej 46 - 2300 København S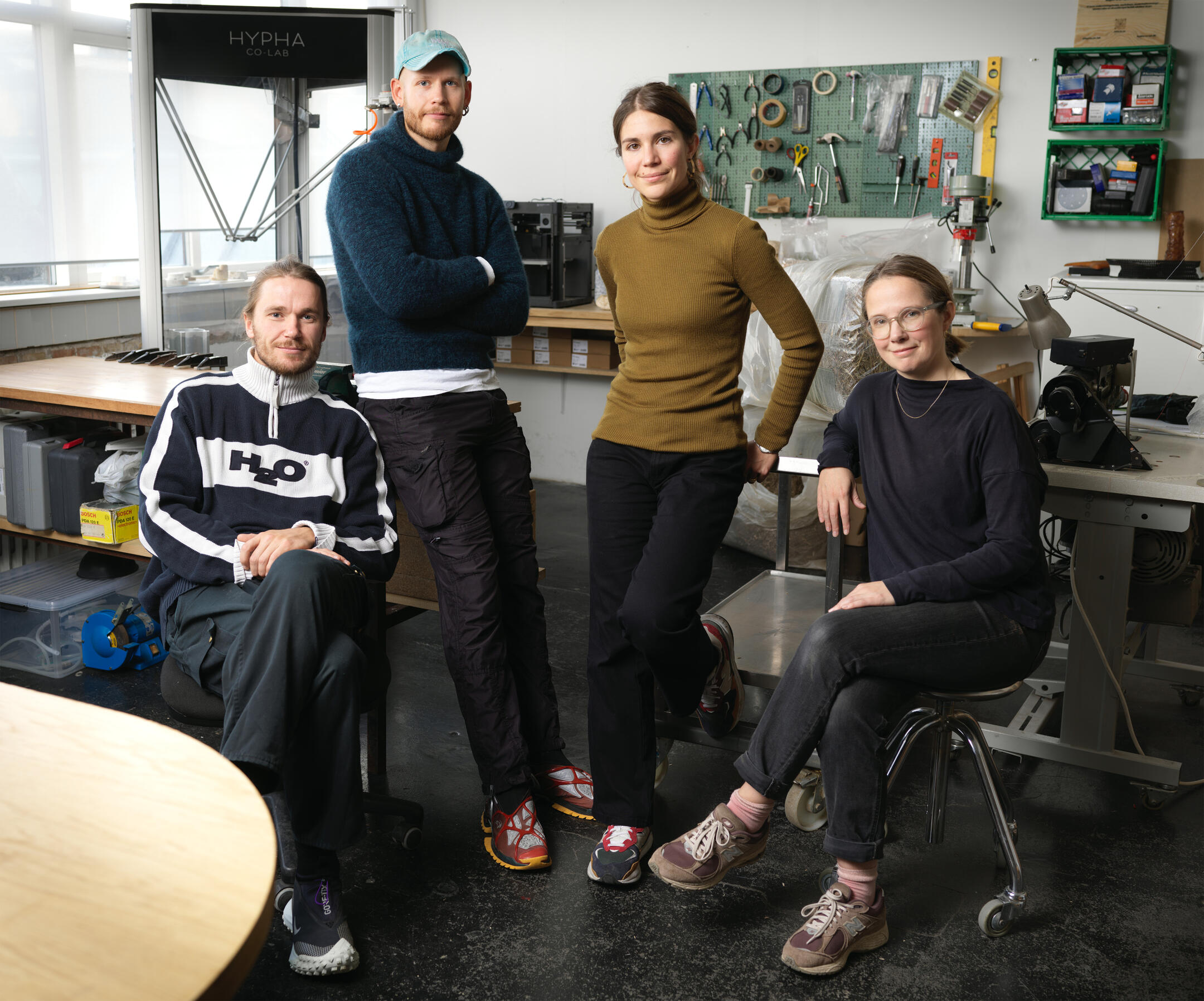 Om os
Hypha Co-Lab er skabt af erfarne designere og facilitatorer, der alle arbejder professionelt med mycelium som materiale.Vi faciliterer og skaber de nødvendige rum til at eksperimentere med mycelium, således at nye brugere kan opdage og udforske svampenes potentiale.Det gør vi gennem undervisningsforløb, workshops, medarbejder-events, foredrag eller et skræddersyet forløb udviklet til jer.Hvis du eller din organisation arbejder med mycelium som materiale, eller har interesse i at lære hvordan, kan du blive medlem.
---
Hypha Co-Lab er stiftet i 2023 af:Charlotte Sabouret
Tidligere professionel svampedyrker og myceliums entusiastLaura Penman
Maker og bio 3D-print specialistLasse Sylvest Lilleør
Designer og 3D-print specialistSøren Overgaard
Designer og bådebygger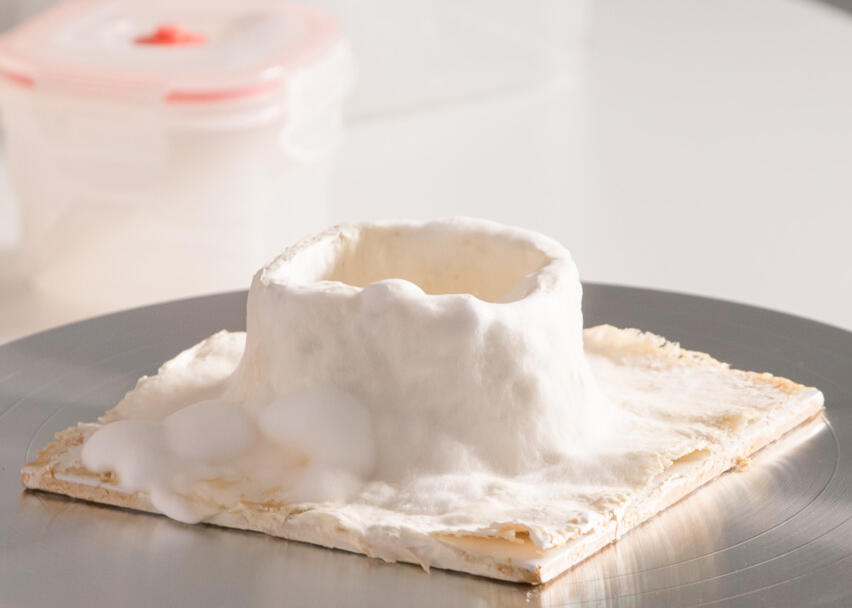 Medlemskab
Hypha Co-Lab er åben for medlemmer der arbejder med eller er interesseret i, mycelium som materiale.Medlemskab er gratisVed at blive medlem får du:- Invitation til værkstedsdage i løbet af året - kom og brug vores faciliteter og prøv din idé af.- Et netværk af andre der har interesse i mycelium.- Rabat på workshops, kurser og foredrag- Adgang til vidensdeling og ressourcer- Mulighed for at blive hyret til relevante projekter og eventsSkriv til os nedenunder hvis du kunne tænke dig at blive medlem.
Når du bruger ansøgningsformularen nedenunder må du meget gerne fortælle lidt om:- Motivation for at blive medlem- Din erfaring med mycelium- Hvordan du har hørt om Hypha-Co-Lab
Kontakt os
Vil du have os ud at undervise, lave workshops, holde foredrag eller noget helt fjerde så kontakt os nedenunder.
--- ---
We are a non-profit association with the aim of promoting understanding and adoption of mycelium materials through dissemination and exchange of knowledge, practical skills and sharing of resources.
Hypha Co-Lab - 2023
Charlotte Sabouret, Laura Penman, Lasse Sylvest Lilleør, Søren Overgaard
Atelier 30 - FABRIKKEN for Kunst og Design - Sundholmsvej 46 - 2300 København S
About us
Hypha Co-Lab was created by a group of experienced designers and facilitators with a shared passion for working with mycelium as material.We create space to experiment with mycelium, inviting everyone to discover and explore the vast kingdom of fungi and all of its potential.We do this through hands-on workshops, teaching, corporate events, lectures or a tailored program developed for your needs.If you or your organization are already working with mycelium materials, considering working with them or just interested in learning more you can become a member.
---
Hypha Co-Lab was founded in 2023 by:Charlotte Sabouret
Former mushroom farmer and mycelium enthusiastLaura Penman
Maker and bio 3D-printing specialistLasse Sylvest Lilleør
Designer and 3D-printing specialistSøren Overgaard
Designer and boatbuilder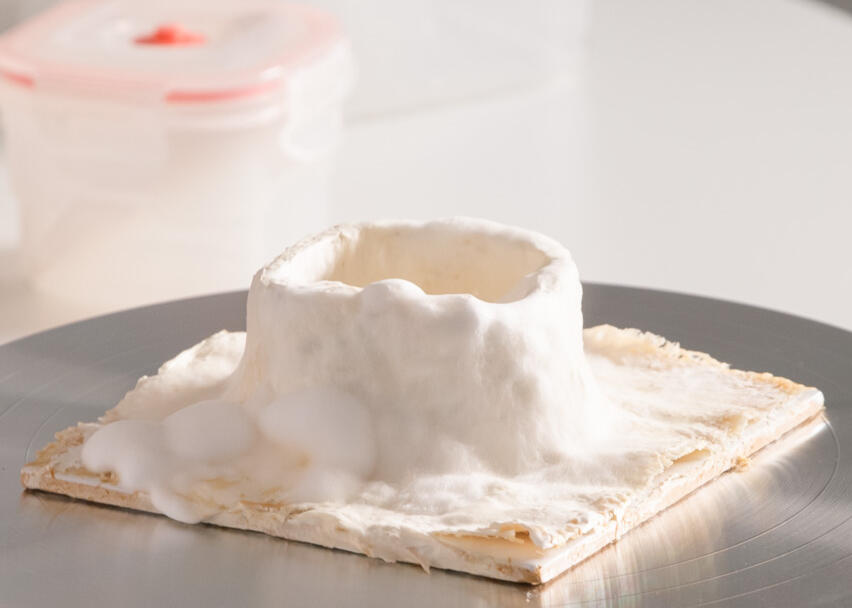 Membership
Hypha Co-Lab is open to new members working with, or showing interest in, mycelium as a materialMembership is freeMembership benefits:Invitation to workshop days in the lab - come and use our facilities and try out your ideaA network of others with an interest or expertise in mycelium materialsDiscount on workshops, courses and lecturesAccess to knowledge sharing and resourcesThe possibility to get hired for relevant events or projectsPlease write to us below if you are interested in becoming a member
When signing up through the form down below - please tell us a bit about your:- Motivation to become a member- Experience with mycelium- How you heard about Hypha-Co-Lab
Contact us
If you are interested in a workshop, lecture or just curious to learn more about Hypha Co-lab then please get in touch through the form below. We'd love to hear from you.
Hypha Co-Lab Privacy PolicyUpdate date: November 7th 2023Our contact details
Name: Hypha Co-Lab
Address: Atelier 30, Sundholmsvej 46, 2300 København S
Phone Number: 31 32 45 37
E-mail: charlotte@hypha.dk
The type of personal information we collect
We currently collect and process the following:
Personal information:
Members contacts and characteristics (name, email, occupation, motivations for being a member)
Newsletter's members contacts (email address)How we get the personal information and why we have it
Most of the personal information we process is provided to us directly by you for one of the following reasons:
You have made an information request to us.
You have asked to become a member of the association.
We also receive personal information indirectly, from the following sources in the following scenarios:
Social media (Instagram, when we communicate on our upcoming events as well as to communicate with you)We use the information that you have given us in order to perform the two following actions:
Membership
Send you information about your membership: Confirmation, voting rights, practical information, end of membership
Send you emails about mycelium and myco-materials, events, etc.
Events
Send you practical information about events you sign up for.Under the General Data Protection Regulation (GDPR), the lawful bases we rely on for processing this information are:
Newsletter:
(a) Your consent. You are able to remove your consent at any time. You can do this by charlotte@hypha.dk
Purchase:
(b) We're legally obliged to process and keep transaction data for 5 years according to the Danish Accounting Act ('Bogføringsloven')How we store your personal information
Membership data
Your information is securely stored in Google Drive.
We keep your membership information (name, email, occupation, motivations for being a member) during the period you are a member.
We will destroy any paper supports with your data with a shred paper machine.InstagramIf you contact us via Instagram, the personal data you provide at that time will be used to process the request. We will delete this data once we have completely responded to your query, unless there are legal obligations to retain the data, such as for subsequent fulfilment of contracts.IP addresses in CarddOur website is not registered to track and analyse site traffic.Your data protection rights
Under data protection law, you have rights including:
Your right of access - You have the right to ask us for copies of your personal information.
Your right to rectification - You have the right to ask us to rectify personal information you think is inaccurate. You also have the right to ask us to complete information you think is incomplete.
Your right to erasure - You have the right to ask us to erase your personal information in certain circumstances.
Your right to restriction of processing - You have the right to ask us to restrict the processing of your personal information in certain circumstances.
Your right to data portability - You have the right to ask that we transfer the personal information you gave us to another organisation, or to you, in certain circumstances.
You are not required to pay any charge for exercising your rights. If you make a request, we have one month to respond to you.
Please contact us at charlotte@hypha.dk, 31 32 45 37 if you wish to make a request.How to complain
If you have any concerns about our use of your personal information, you can make a complaint to us at charlotte@hypha.dk, +45 31 32 45 37.